The Windsor Court Hotel is a lauded hotel in the heart of downtown New Orleans. The hotel offers many exquisite amenities including fine-dining and a spirited beverage program that surrounds guests in a luxurious experience. In 2017 the hotel introduced several food and beverage initiatives to target locals and entice a young demographic. After planning these events, Windsor Court looked to DEVENEY for recommendations on communicating their exciting programs through public relations, advertising and social media.
Our goal was to expand Windsor Court's social media reach and showcase food and beverage outlets as a popular place to be for celebrations.
DEVENEY's research identified the trend of the millennial's focus on travel experiences. Windsor Court's exciting programs and amenities in a luxurious space aligned perfectly with that desire. This direction helped to guide our team in narrowing down our target audience to guests age 21-34.
Based on our identified target audience and goals, it was determined that Snapchat would be the best channel to achieve our objectives. The platform's primary use is for the active sharing of content to friends and followers and less the tendency for passive scrolling. Additionally, the platform's demographics show that 71% of Snapchat users are under 34 years old.
With the selection of Snapchat our team was presented with two choices: should Windsor Court establish their own account for regular posting, or focus on specific events with the platforms Geofilters?  The prohibitive amount of time needed to keep up with regular account content led to our ultimate decision of focusing on Geofilters.
DEVENEY worked to create a Geofilter content schedule focused around seven key moments for food and beverage. These selected events provided ample opportunity for user generated content.
The Geofilter creative proved to be challenging with the need to balance Windsor Court's traditional visual aesthetic and Snapchat's more casual approach. This was solved by focusing on the Windsor Court brand guidelines including limiting number of fonts used in design and the use of trendy imagery or colors.
DEVENEY identified seven key touchpoints that were a combination of property events and local or national events. Events included specially themed afternoon teas, major New Orleans Saint's games and New Year's Eve. In addition to identifying events, we utilized Windsor Court's reservation numbers to guide the times selected for the filters to run.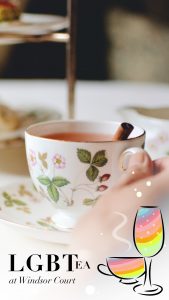 Snapchat proved an excellent platform for communicating our message. From just under 350 Geofilter uses, we achieved a reach of 11,595 Snapchat users and 18,416 views.
What methods is your brand utilizing to reach target audiences? Join the conversation by tweeting us @DEVENEYMKTG