Titles are hard. You see, you can write a great story. It can be deep, relevant and informative. But if you pair it with a bad title and picture, then no one will care. All the time, effort and resources you've spent?
Wasted.
Clickbait, alternatively, is easy. It's quick, generic and sensational. It grabs your attention, using subtle psychological techniques to pull you in. Fun fact: You're more likely to read listicles starting with odd numbers than even ones. Oh, and the number 29 is statistically most likely to grab reader's attention. It's weird like that.
Per Buzzfeed's Ben Smith, clickbait is anything that fails to deliver on the title's promise. So if an article promises to share the shocking truth behind the story of a three-legged man, and you find out it's just a guy who uses a crutch, that's clickbait. You're disappointed, and you probably feel cheated as well.
Too many people make the mistake of writing titles like "14 Reasons Why Doctors are Freaking Out About Acai Berries." It's clickbait. And it sounds like one of those cheesy ads you see in your sidebar.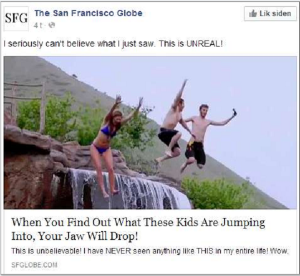 (Spoiler Alert: They're just jumping into a pool.)
Instead of this hyperbole-stuffed format, most successful blogs craft their titles with one thing in mind:
The curiosity gap.
In case you haven't heard this term before, the curiosity gap is the space between what you know and what you want to know. Essentially, Buzzfeed and other platforms work to create and exploit this gap. Basically, they want to make you curious. And curiosity fosters clicks. Shocker, right?
But people are slowly getting tired of generic, sensationalized article titles. They aren't as successful as they once were. However, you can still target the curiosity gap without the over-the-top hyperbole. To stay relevant (and authentic), try some of the following techniques to create a curiosity gap in the minds of your audience:
Make sure your titles are long enough. Per HubSpot's statistics, the best titles are between 8-14 words long. This isn't a book title; the audience needs to clearly understand the point of your article. Otherwise, they won't be interested.
However, don't give everything away in the title. Keep that curiosity gap in mind. Let's say you own a hotel, and you want to talk about how you have the softest sheets ever. You write a story about thread counts, and your first title is: "Our Sheets are the Softest in Town." It's direct and clear, but it doesn't make people want to click. Let's improve it.
For starters, let's work on the curiosity gap. Instead, let's try "Buy Softer Sheets by Understanding How Thread Counts Actually Work." It creates the gap by causing people to question their knowledge of bedding. Since most people don't have an in-depth knowledge of sheet softness, they'll be more likely to click.
Consider starting your title with "Why," "How to," or even a question. It helps build that curiosity gap because people automatically ask, "Do I know why this works?" And then they want to know.
Use keywords. One, this will make your title improve your title's search engine performance, helping more people see your stuff. Secondly, keywords can pop out at a reader. It makes the title a bit more interesting and it makes it less generic.
For more tips on writing titles, read this article. Have some of your own you'd like to share? Tweet at us @DEVENEYMKTG or find us on Facebook here.