Fifteen years ago, the terms PPC, CPM and real-time bidding seldom existed in the world of media buying. It's not news that the digital methods of communication and marketing are faster, more versatile and more relevant than ever. It's important to understand the process in digital ad buying to stay competitive in the ever-changing, online-driven market. According to AdWeek's coverage of a Meeker presentation, Internet ad revenue hit $60 billion in 2015, which was a more than 20 percent increase compared to 2014. Digital media buying has come a long way, from site-direct sales to programmatic buying, which includes real-time bidding and automated guaranteed buying.
True to DEVENEY's engagement agency process, any digital advertising campaign starts with research. What is the goal of the campaign? Who is the target audience? To what do they respond? What is highest performing call-to-action for this audience group?
There are several types of ways to make the actual ad buy. Whether it's through a digital media buying agency that has direct relationships with first-party data or is site direct with a publisher, there are many different types of pricing models to choose from:
CPM: Cost per 1,000 impressions
This allows the planner to select the best-performing sites and placements based on target audience profiles and/or online behaviors.
CPC: Cost per click
This type of buy auto-runs based on inventory availability so the advertiser cannot select specific placement.
CPL: Cost per lead
The advertiser only pays for a qualified sign-up, regardless of the number of impressions or clicks.
CPA: Cost per action/acquisition
The advertiser only pays for the ad if the viewer acted on the ad, i.e. clicked on the ad.
Another commonly used term is programmatic ad buying, which is the automated method of purchasing and the sale of advertising space in real time. The IAB estimates that programmatic spend will have grown from 28 percent of marketing spend in 2013 to over 80 percent in 2018. Adobe's infographic breaks down the behind-the-scenes process of programmatic ad buying: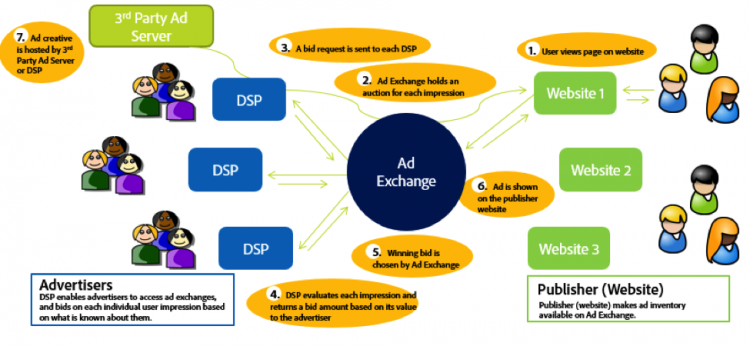 Finally, to finish out the process, we need to evaluate the results of the digital ads. The types of metrics received will be based on the type of ad buy. Comparing and analyzing site traffic generation, click-thru rate, conversion rate, as well as the audience profiles and repeat site traffic, can assist in evaluating the results and altering the buy for the next flight.
How are you using digital ad buys? Tweet us @DEVENEYMKTG and let us know.