‍Writer's block isn't just for journalists – it's an all too common issue social media publishers face with the daily feeding of the social media beast. So, what should you do when the clock is ticking and your adoring fans are waiting? Use these steps to get inspired.
1. Engage
We grow up learning that to be a good friend, we must talk and listen equally. Social media is no different. In a pinch, sift through your listening software for recent mentions, keyword searches, etc., to share.
This isn't the time to go on a retweeting spree. Retweet, repost and share quality content that's true to your brand. Make sure to add comments of value – keeping in mind why your audience should care or your brand's point of view. This is also a great opportunity for connecting with influencers – bonus points if you take the time to follow those accounts to continue the relationship!
2. Turn to Trends
There are weekly trends you can plan on (#WeddingWednesday, #TBT, #MondayMotivation) in addition to spur-of-the-moment trends (#GoodNewsIn5Words, #snowedinpastimes, #WhenImHungryI). Joining a large conversation provides great exposure, and tweets with hashtags receive two times more engagement. Utilize a listening software, or a free tool like Twitter Trends, and jump on the bandwagon.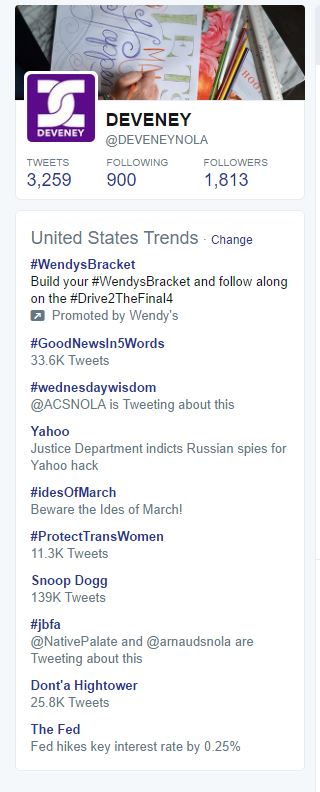 A word of caution: always check to make sure you fully understand the trend. A quick browse of the conversation will prevent your brand from becoming the next DiGiorno Pizza.
3. Take a Walk
It may seem counter-intuitive, but take a break from your screen to help generate new ideas. Get out of the office, and open your eyes to content opportunities. Even small things, like a blooming flower that matches your company's logo, provide fodder for this weekend's Instagram post.
Remember, a continuous and strategic stream of content is the best way to achieve your social media goals. Utilize these tips to keep the conversation going and your social media feed fresh.
What's your tried and true method for solving content woes? Tweet us @DEVENEYMKTG.