Backlink (Noun): an incoming hyperlink from one web page to another website.
Okay, so now that we've defined it, let's put backlinks into terms of your website:
Backlinks act like a recommendation for your website. Google's algorithm likes these recommendations (backlinks) because they make the site seem more trustworthy. Just like you would be more inclined to go to a restaurant that has a lot of recommendations, Google is more inclined to push your page to the top of search results if you have numerous, quality backlinks.
According to a study by Fleishman-Hillard, 89 percent of consumers use search engines to make purchasing decisions. So, if you do not rank in their search results, it is unlikely they will find your product or service. We want you to succeed, so we outlined a few things you can do to get quality backlinks:
1. Include links in all online press
Remember when someone mentioned your company in one of their articles? See if they can hyperlink your company name. For example, DEVENEY was named one of the 2016 Top Places to Work by New Orleans CityBusiness.
If you publish your press releases on external sites, be sure to have a link to your company in there. Here is a snippet of a press release we created for a client in which we requested there be a link to the client's website.

2. Provide shareable content
Create an incredible infographic people would want to embed on their site or in an article they'll distribute. Oddly enough, you don't want to overprotect your content; you want people to share, share, share. Make that content free and easily accessible. The trade-off? They attribute your content by providing a link back to your site.
3. Be reporters' BFFs
Always offer to be a reference to anything a reporter might cover within your industry. If you're in the travel industry and a reporter is writing an article on ideal times to visit your city, give a well-tailored quote that flows well with their piece, and they'll likely include it. Just be sure to ask them to link back to your website. As an expert in media relations, DEVENEY has spent decades developing and fostering relationships with journalists. Here are a few ways to become a reporter's BFF:
Outline a few industries, subjects, etc. and let the reporter know you're always happy to speak as an expert on these items.
Check in with reporters outside of pitching. Send them a holiday card, invite them to lunch or compliment a recent article they wrote. Small efforts can go a long way in building strong relationships.
You might even want to sign up to be a resource for journalists on sites like HARO so you receive free publicity (and backlinks).
4. Be a sponsor
Sponsor local events, conferences, etc. Sponsorship is great for brand awareness, but also for backlinks. The bigger the event, the more traffic it will get, which will also mean it will have a relatively high page rank. Just tell the event organizer that you would love to be a sponsor, and request a link to your site when they list your company on their sponsorship page.
5. Donate to charities
You should be doing this regardless, but there's a deeper win-win here. Many charities have high page ranks, which means a backlink to your site is of higher quality (Google's algorithm likes this mucho). So, when speaking to local charities, just ask that they link back to your site in exchange for your donation.
6. Have a Google Business Page
Google verifies that your business is real when you undergo the Business Page process. They will also have a link to your site that is Google-quality approved. Creating this page is a best practice in other ways as well. Having a Google Business Page provides Google Maps with your address, so consumers can easily get to your location. It also makes your phone number easily accessible to make a reservation (without the Open Table booking charges), and includes your hours, so people don't keep calling and asking.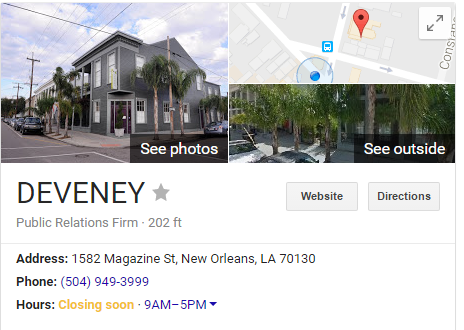 7. Comment and interact with other blogs
Many blogs let you comment but often ask for your name and website. Including your website URL in that section before you comment will also provide a backlink. Don't go too nuts with this, though. If you don't provide relevant, quality content in your comments, you might get blocked from commenting more. The block will begin to affect you negatively in Google's rankings.
This strategy is also true for forums: if someone asks a question or for help, you can give a basic answer and tell them to go check out your page, with a link, for more information.
Interacting with other blogs can be as small as commenting your opinion, or as large as posting a blog on another site. Guest posting takes a lot of work, but if you're willing to put in the time, it can be very beneficial. It gives your brand exposure to that site's audience, and it gives you a backlink. If the site has high authority, it could be a great backlink to have.
8. Directories
Directories aren't my favorite, but it does get the job done. If you find directories that are fitting for your business, build a profile on it and include a link to your site. These directories can be reputable like Yelp, TripAdvisor, LinkedIn, Google, CitySearch, etc. There are sites that request you to pay large sums of money for a profile, which are not worth it. Here is a list of a few directories that might be right for your business.
9. Profiles
Yes, this is a bit different than directories. If you have employees who are on boards of various committees or part of local organizations, they might have a profile on those sites. See if the site can say "employee name" of "your business" with a link.
I.E. Our board member, John Smith, of John Jacob Jingleheimer Schmidt Inc…
Always remember: with backlinks, the more, the merrier, but also the higher the quality, the better. Tweet us @DEVENEYMKTG if you have any questions.